also known as:
Indore Binkar Gharana
---
Bande Ali Khan
(1826-1890)
In 1844 Tukoji Rao became the leader of Indore. In the middle of the 1860s Bande Ali Khan joined the court. The first wife of Bande Ali Khan was the daughter of Haddu Khan, the founder of the Gwalior Gharana. They had two daughters. Both were married to musicians from Udaipur.
Bande Ali Khan's disciples were:
Wahid Khan – vina
Murad Ali Khan – vina
Rehmat Khan – sitar
---
Usman Khan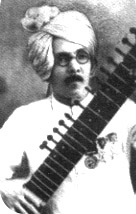 Murad Ali Khan's disciples were Babu Khan (vina) and Usman Khan (vina). Babu Khan's disciple was Jaffer Khan, whose son, Abdul Halim Jaffer Khan (b. Jawra, 1929.) still lives in Mumbai and has been a very good improvisator, who integrated his father's style, the Jafferkhani baj into his playing. In 1970 he was awarded the Padma Shri title. In 1976 he founded the Academy of Sitar in Mumbai. In 1987 he received the well known Sangeet Natak Academy Award. He performed everywhere until he lost his hearing.
Wahid Khan had one daughter and two sons, Majid Khan (vina) and Latif Khan (vina). Both of his sons married to the daughters of Enayat Khan (Imdad Khani Gharana)
---
Mohammad Khan
| | |
| --- | --- |
| Mohammad Khan: Raga Bhairavi alap | |
Wahid Khan's grandson, the vina and sitar player Mohammad Khan, was married to Enayat Khan's youngest daughter. Their son, Rais Khan, was a disciple of Vilayat Khan, but he claims that he does not belong to the Imdad Khani, but to the Indore Gharana and he is the most active representative of the gharana these days.
---
related links: Rais Khan