5th of May, 2012
Trafó, Budapest 20.00
Fareed Ayaz - Abu Muhammad
Qawwal & Bros
(Pakistan)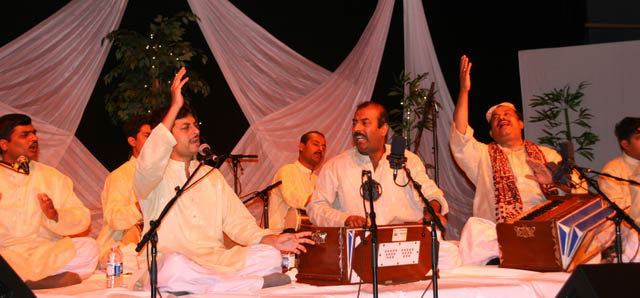 Fareed Ayaz - main vocal, harmonium
Abu Muhammad - main vocal, harmonium
Ghulam Akram  - second vocal
Moiz Uddin  - second vocal
Ali Akbar -  tabla
Gayoor Ahmer - dholak
Mubark Hassan - chorus
Zarar Ahmed  - chorus
Shah Blaeehg Uddin - chorus
Hamza Khan - chorus
from 19.15 we are showing "Music of Pakistan - 2." - a documentary film!
Fareed Ayaz was born as Ghulam Fariduddin Ayaz al-Hussaini belongs to the best known gharana of Qawwali of Delhi ('Qawwal Bachon ka Gharana'). The goal of the Qawwali is to feel the extasy of faith and - for a concert or even longer - getting closer to God. This tradition is approximately 705 years old, was started by Saamat bin lbrahim, the principal student of Hazrat Amir Khusrau - the most prominent Sufi of India. Fareed Ayaz has the most trained voice of all Qawwali singers and with their decades behind his group is the most delicat Qawwali group of Pakistan.

Fareed Ayaz started his training in classical music at a tender age under the rigorous and critical tutelage of his late father Ustad Raziuddin, who himself was an outstanding classical musician and a recipient of the Pakistan President's Pride of Performance medal and was received many other honours from the Government of Pakistan. Fareed Ayaz has total mastery over various genres of classical music such as dhrupad, khayal, tarana, thumri and dadra which he blends beautifully during his performances of Qawwali. His mastery over classical music was acclaimed at the all Pakistan music conference annual festival in 2005, where he was invited to perform as a classical singer and not a Qawwal.


For showing the beauty of their voices only:


Fareed Ayaz official website: http://www.qawwal.com/