Ustad Shahid Parvez is privileged with both belonging to an illustrious musical family, and for achieving success in not only preserving the tradition but in pushing its boundaries to even greater heights of aesthetic beauty. He is one of the most brilliant musical gems of the famous Imdad Khani-Etawah Gharana and belongs to the seventh generation of this musical lineage. His family has produced the most revered and influential figures in Hindusthani Classical Music including the likes of Sahabdad Khan, Imdad Khan, Enayet Khan, Waheed Khan and Vilayat Khan.
A very young Shahid Parvez was initiated into the rich music of the Gharana by his illustrious father and Guru Ustad Aziz Khan, a famous musician and a noted composer and the son of the legendary Sitar and Surbahar virtuoso Ustad Waheed Khan.
As is the custom, Ustad Aziz Khan first initiated his son into vocal music and tabla, before training him on the Sitar over many years with all the intensity and rigor that had made this Gharana famous. The young Shahid Parvez was recognized as a child prodigy and had started performing in public by the time he was only eight years of age. Dogged perseverance and hard work over the years have been rewarded with extra-ordinary technical.
He is the recipient of numerous prestigious awards including the Government of India's 'Padma Shri' and the 'Sangeet Natak Academy Award.' He has performed in all major musical festivals in India and abroad including the Festival of India held in the US, Europe, USSR, Canada, Middle East, Africa and Australia, enthralling the audience everywhere.
Shahid Parvez official page: http://www.shahidparvezkhan.com/

Nihar Mehta
Tabla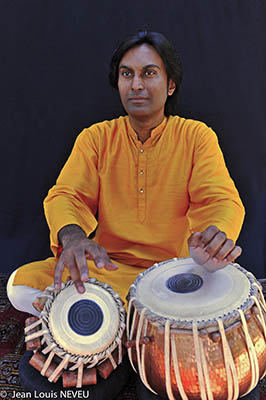 Nihar Mehta comes from one of the foremost and respected families of Philosophers and Musicians of Ahmedabad. The family is also active in teaching and promoting Indian classical music through their well known Music Institute "SAPTAK" in Ahmedabad, founded in the year.
Since music was in the family, it became a second nature for Nihar and right from the age of 12 he started learning Tabla from his from his uncle Nandan Mehta and Pt Puran Maharaj at SAPTAK School of Music Ahmedabad. Nihar's Uncle Nandan Mehta and his Father became Kishan Maharaj's disciple in the year 1954. Nihar was hence inspired and received guidance time to time from his dada Guru Pt.Kishan Maharaji. He is presently the disciple of Pt. Pooran Maharaj.
Nihar Mehta official page: http://www.tablaineurope.com/