also known as:
Etawah Gharana
Imdadkhani Gharana
Imdad Khani Sitar and Surbahar Gharana
---
Haddu Khan, Hassu Khan, Sahabdad Khan
There was a Rajput in the middle of the 19th century in Gwalior. At that time there were two leaders of the Gwalior musical darbar, two brothers, Haddu and Hassu Khan. Haddu Khan was a dhrupad, and Hassu Khan was a khyal singer. They have their own unique style, and they practice only at night. Sahib Singh – who was probably a relative of Haddu Khan – was refused as a disciple, so paid for a servant to lock him in the huge bird cage of the room where the brothers practice. He had listend to them to practice every night for 7 years. Once the two brothers were roaming the streets of Gwalior where they heard their style form a house. They wanted to see which disciple of them was practicing, but they found Sahib Singh only. Haddu wanted to kill him, but Hassu made calm him down, because he realized the love for the music in the boy. Sahib Singhet was accepted as a disciple. Later he converted to Muslim so he got the new name: Sahabdad Khan. He also learned from the Senia musician Nirmal Shah, and played the surbahar, invented by himself, and jaltarang as well. He lived in Etawah (so sometimes they call the gharana: Etawah Gharana ) where he was a musician of the Naugaon darbar. He had two sons, the older was Imdad Khan and the younger was Karimdad Khan, both had been thought for twelve years by their father.
---
Imdad Khan
(1858-1920)
| | |
| --- | --- |
| Imdad Khan: Raga Darbari Kanada (1904) | |
Ustad Imdad Khan was born in Agra, as the second generation of what was to become the Etawah Gharana (school) or Imdadkhani , named after the village outside Agra where the family soon moved. He was taught by his father, Sahabdad Khan, a trained vocalist and self-taught sitar player, but Imdad Khan came to greatly develop and define the family style and techniques. Imdad Khan was also trined by the legendary beenkar Ustad Bande Ali Khan (disciple and son-in-law of Ustad Haddu Khan. In the 19th Century, the instrumental classical music of North India was dominated by the Senia style, passed down through the musical dynasty of Miyan Tansen's descendants, who played in the dhrupad ang. Imdad instead evolved a style based on the newer, more popular khyal singing. It is said that in his youth at Etawah, Imdad practiced on the sitar in a state of chilla (isolation) for some twelve years.
Imdad attained great fame in his lifetime: he played for Queen Victoria in Delhi; he served as a court musician in Mysore (even though he was a northerner and South India has its own classical music, different from that of the north); and he was the first sitar player ever to be recorded. Some of these recordings have been released on CD, on the Great Gharanas: Imdadkhani compilation in RPG/EMI's Chairman's Choice series.
He taught the sitar and surbahar to his two sons, Enayat and Waheed Khan. He used to say that his two sons were his two hands, and although both of them played the sitar and the surbahar equally well, Enayat Khan's specialization was the sitar and Waheed khan's specialization was the surbahar. Ustad Imdad Khan actually shifted base from Etawah to Kolkata with his two sons and the house in which they lived was named "riyaz".
---
Enayat Khan
(1894-1938)
| | |
| --- | --- |
| Enayat Khan: Raga Bhairavi (1920) | |
Enayat Khan was born in Uttar Pradesh into a family of musicians. His father was sitar great Imdad Khan, who taught him the sitar and surbahar in the family style, known as the Imdadkhani Gharana or Etawah Gharana, after a village outside Agra where Imdad once lived. He married Basiran Bibi, daughter of khyal singer Bande Hussain, and settled with his family in Calcutta, where, though he only lived to 43, he did much pioneering work on the sitar. For example, he standardised its physical dimensions and added the upper resonator gourd, which is very popular with today's players (though his own descendants have not kept using it). In a place rapidly developing into an important North Indian centre of the arts, at a time where interest in national culture was strong fuelled by the struggle for independence, he brought sitar music out from its narrow connoisseur circles to new mass audiences. Nobel laureate Rabindranath Tagore was a musical collaborator and personal friend. Some of Enayat Khan's recordings have been released on CD, on the Great Gharanas: Imdadkhani compilation in RPG/EMI's Chairman's Choice series.
Enayat died young, with four children. His two sons, Vilayat and Imrat, were trained in the Imdadkhani style by other members of his extended family. Vilayat learned the sitar and Imrat the surbahar; both were to become very famous classical musicians.
---
Vilayat Khan
(1927-2004)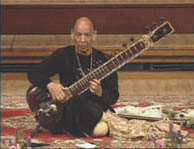 | | |
| --- | --- |
| Vilayat Khan, Shankar Ghosh (tabla): Raga Darbari Kanada gat (exception) | |
Vilayat Khan was born into a family of musicians tracing its pedigree generations back to the court musicians of the Mughal rulers. His father was Enayat Khan (1895–1938), recognised as a leading sitar and surbahar (bass sitar) player of his time, as had been the grandfather, Imdad Khan (1848–1920), before him. Vilayat was taught in the family style, known as the Imdadkhani Gharana, or Etawah Gharana, after a village outside Agra where Imdad lived.
However, Enayat Khan died when Vilayat was only nine, so much of his education came from the rest of his family: his uncle, sitar and surbahar maestro Wahid Khan, his maternal grandfather, singer Bande Hassan Khan, and his mother, Bashiran Begum, who had studied the practice procedure of Imdad, Enayat and Wahid. Vilayat's uncle Zinde Hassan looked after his riyaz (practice). As a boy, Vilayat wanted to be a singer; but his mother, herself from a family of vocalists, felt he had a strong responsibility to bear the family torch as a sitar maestro.
The Imdadkhani Gharana never added the bass string to their sitar, which is a smaller, lighter instrument, easier to handle, than for example Ravi Shankar's. In the 1950s, both Vilayat and Ravi worked closely with instrument makers to further develop their respective instruments, but it was in different directions. As a result, their sounds and playing styles were also wildly different. Whereas Ravi Shankar's sitar was large and vina-like, intended for play across multiple registers using multiple melody strings, Vilayat's was small, with a clean and metallic sound, completely without buzz; it did not reach to the lowest register; and it perfectly facilitated his enormous playing speed. Also, Vilayat liked to perform without a tanpura drone, filling out the silence with strokes to his chikari strings. There was much more going on in his playing than the melody itself.
When he died from lung cancer in 2004, Vilayat Khan had been recording for over 65 years, broadcasting on All-India Radio since almost as far back and been seen as a master (Ustad) for 60. He had been touring outside India off and on for more than 50 years, and was probably the first Indian musician to play in England after independence (1951). In the 1990s, his recording career reached a climax of sorts with a series of ambitious CDs for India Archive Music in New York, some traditional, some controversial, some eccentric. Towards the end of his life, he also performed and recorded sporadically on the surbahar.
Vilayat Khan spent much of his life living in Calcutta. He was married twice, his first marriage ending in divorce; he had two daughters, Zila and Yaman (named after ragas), and two sons, Shujaat (b. 1960) and Hidayat (b. 1975), who both play the sitar. He was survived also by his younger brother, Imrat Khan, the post-war star of the surbahar field. The brothers played celebrated duets in their youth. Vilayat took few disciples other than his sons; among the best-known are Kasinath Mukherjee, Arvind Parikh and Kalyani Roy.
Away from the sitar he enjoyed horse-riding, pool playing, swimming and ballroom dancing. His successes made him rich, and though he grew more pious late in life, he used to drive sports cars and dress in haute couture, and also collected such various items as firearms, smoking pipes, antique European crockery, cut glass and chandeliers.
| | |
| --- | --- |
| Vilayat Khan, Kashinath Mishra (tabla): Raga Vilayat Khani Kanada gat (exception) | |
| | |
| --- | --- |
| Vilayat Khan, Sabir Khan (tabla): Raga Sanjh Saravali | |
Fans and media alike liked to play up Vilayat Khan's rivalry with and animosity towards Ravi Shankar. However, in calmer moments Vilayat would admit there was not much to it. His animosity for the politics and institutions of India's cultural life was another matter. In 1964 and 1968, respectively, he was awarded the Padma Shri and Padma Bhushan awards – India's fourth and third highest civilian honours for service to the nation – but refused to accept them, declaring the committee musically incompetent to judge him.
In January 2000, when he was awarded the Padma Vibhushan, the second highest civilian award, he again refused, going so far as to call it "an insult". This time, his criticism had a slightly different twist: he would not accept any award that other sitar players, his juniors and in his opinion less deserving, had been given before him. "If there is any award for sitar in India, I must get it first", he said, adding that "there has always been a story of wrong time, wrong person and wrong award in this country".
Among other honours he turned down was the Sangeet Natak Akademi Award. For a while, he also boycotted All-India Radio. The only titles he accepted were the special decorations of "Bharat Sitar Samrat" by the Artistes Association of India and "Aftab-e-Sitar" (Sun of the Sitar) from President Fakhruddin Ali Ahmed.
---
Bimalendu Mukherjee
(1925-2010)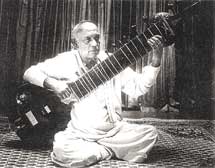 Acharya Bimalendu Mukherjee was born in an art-loving Bengali family at Chinsurah West Bengal, on 2nd January 1925. Bimalendu Mukherjee is a learned musician – although he was an Imdadkhani sitar student of Enayat Khan, a full list of his teachers also includes sitarist Balaram Pathak, khyal singers Badri Prasad and Jaichand Bhatt of the Patiala and Kirana Gharanas, Rampur Gharana beenkar Jotish Chandra Chowdhury, sarangi and esraj maestros Halkeram Bhat (Maihar Gharana) and Chandrikaprasad Dube (Gaya Gharana) and pakhawaj drummer Madhavrao Alkutkar. He also studied with Birendra Kishore Roy Chowdhury, the zamindar of Gouripur in present-day Bangladesh, who taught him the moribund sursringar (bass sarod).
Bimalendu Mukherjee is primarily a Sitarist, though he is proficient in almost all traditional Indian instruments like Rudra-Vina, Saraswati Vina, Surbahar, Sursingar, Mandrabahar, Dilruba, Esraj, Tar Shehnai, Sarod and Pakhavaj. He is equally adept in vocal music.
His contributions to the family of stringed musical instruments are the unique "Aditya Veena" – named after his son Budhaditya – and the "Bijoy Veena" – named after his grandson Bijoyaditya. He has also revived the 'Ektantri' single-stringed Veena – an instrument referred to by Sharangdev – and the Sur Kanan. Besides, he has experimented, modified and improved the structure and tonal quality of many stringed instruments like the Sitar , Sarod, Surbahar, Rudraveena, Esraj, Guitar, Dilruba and the Veena.
Pandit Mukherjee has been constantly experimenting with the Western and Eastern philosophy of medical treatment. He has created Raga Anandamayee in That Kafi. His son has recorded the Raga in a novel way on the Sitar . This recording, released with the title "Anandamayee" (full of bliss and happiness), has been successfully experimented on patients of hypertension.
Pandit Mukherjee was a member of various organizations such as The International Society of Music Education, AL-MAESTRO and Hindustani Classical Music. He was formerly Additional Director, CRMM SAIL; General Manager M and Q, Bhilai Steel Plant; Vice Chancellor, Indira Kala Sangeet Vishwavidyalaya, Khairagarh (M.P.) (1983-85 and 1988- 91). He also figures in Five Hundred Leaders Of Influence 1997 American Biographical Institute (U.S.A.); Reference Asia 5; Biography International 1991; Learned Asia 1; India Who's Who 1993-94; International Who's Who of Intellectuals 1997 and International Biographical Center Cambridge (U.K.) .
---
related materials :
Dr. Kamala Shankar interview
Budhaditya Mukherjee interview
related sites :
Budhaditya Mukherjee
Dr. Kamala Shankar
Imrat Khan
Nishat Khan
Rajeev Janardan