7th of November, 2009.
Trafó, Budapest
Pandit Rajeev Janardan – Sitar
Dr. Kamala Shankar – Shankar-guitar
Vinod Lele – Tabla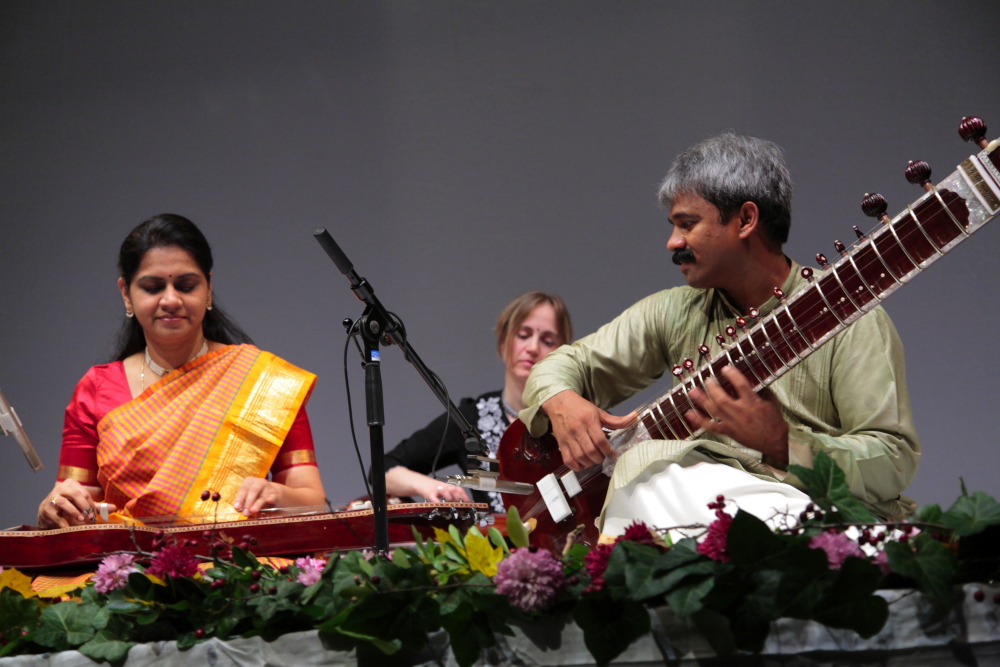 photo by Daniel Zafir ©
---
Pandit Rajeev Janardan
Szitár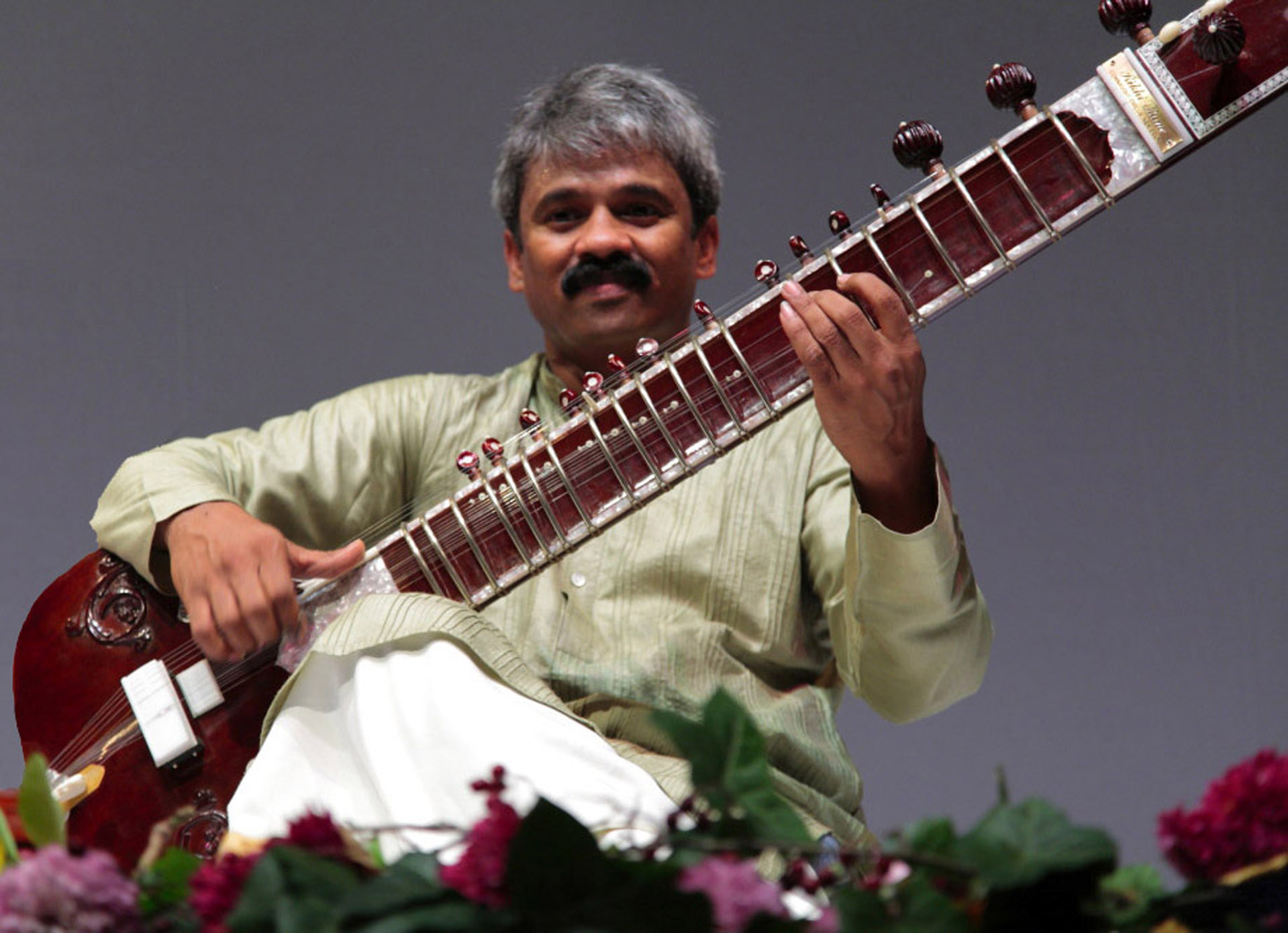 photo by Daniel Zafir ©
Pandit Rajeev Janardan, the torch bearer of the Imdadkhani (Etawah) Gharana (Musical tradition), is recognized as one of today's greatest Sitar players of his generation in the field of Indian Classical Music.
Rajeev's music is an innovative blending of the intricate gayaki ang (vocal style) and tantra ang (instrumental style). The uncanny accuracy of his meends, his delightful surlagao, the crystal clear superfast taankari in the compositions, the dirdir and the chikari variations in the jhala sections, leave the audience spell bound.
Rajeev Janardan had an inborn natural talent and aptitude for Music from his early childhood. He blossomed into a true artist under the valuable guidance of Pandit Bimlendu Mukherjee, a doyen of the famous Imdad Khani Gharana of Sitar.
---
Dr. Kamala Shankar
Shankar-gitár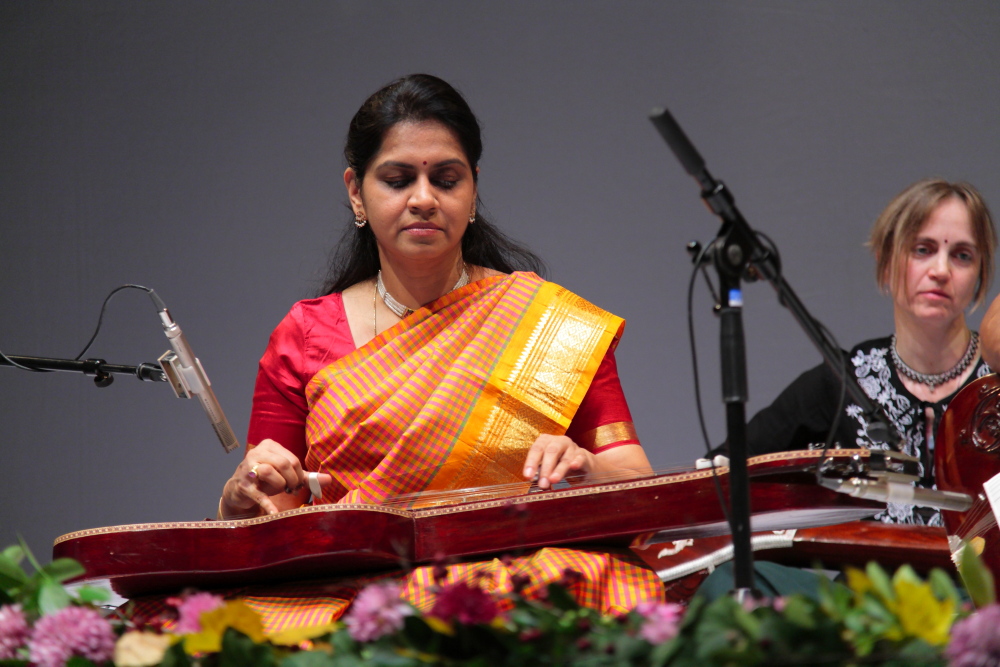 photo by Daniel Zafir ©
Born in Tanjore district of Tamilnadu, Kamala's musical carrier started with the training in Vocal music, initiated by her mother at the age of six and blossomed to be a true artist under the valuable guidance from Pandit Channoolal Mishra, the renowned artist of Varanasi and sitar maestro Pandit Bimalendu Mukherjee of Imdadkhani Gharana.
Kamala has developed the Guitar as a singing instrument and used the celebrated gayaki ang of Imdadkhani Gharana to present her repertoire of Hindustani classical music. Besides having the degree of B. science in Zoology and B. music in vocal, Kamala has got her doctorate (D. Music) in Guitar from Faculty of Performing Arts, Banaras Hindu University.
Dr. Kamala Shankar is known for her sweet and melodious rendition with the superb control of the instrument to present her versatility in the field.
http://www.thekamalashankar.com
---
Vinod Lele
Tabla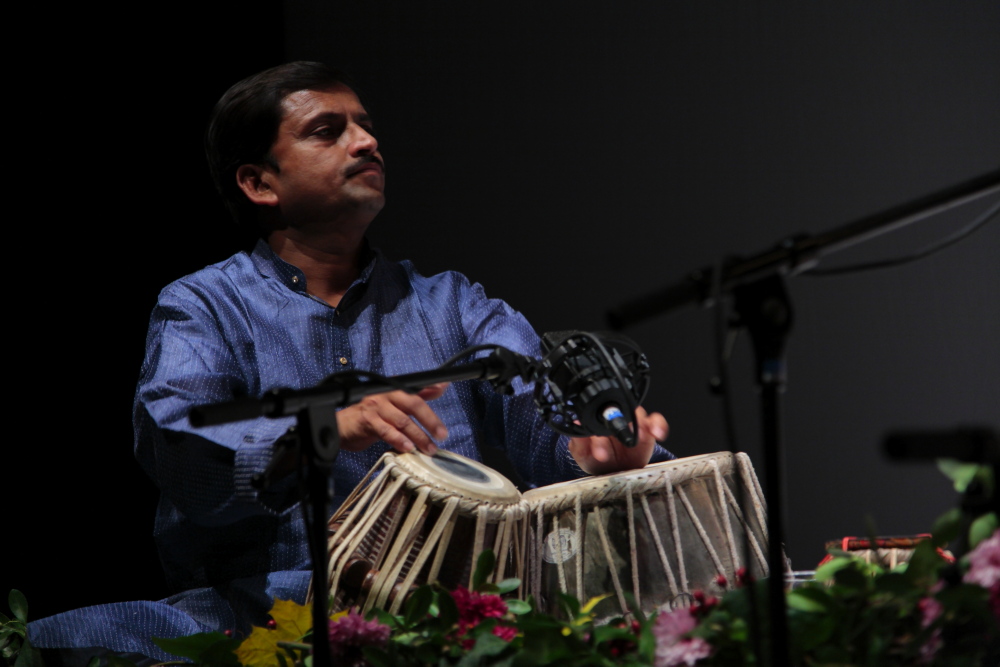 fotó: Zafir Dániel ©
Born in 1965 Vinod Lele learnt the art of Tabla Playing from his guru Pandit Kashinath Khandekar of Banaras Gharana (Tradition of Banaras School) epitomized by the style of playing the celebrated Pandit Anoke Lal Ji. Vinod obtained the degree of Sangeet Praveen (Master in Tabla) from Prayag Sangeet Samiti, Allahabad, securing a Gold Medal. He has won first prize for the Tabla in U.P. Satet Sangeet Nathak Akademy, Music competition in 1982. He has also won first prize in the All India Radio Music Competition in 1983.
Vinod Lele's Style of Tabla playing is characterized by liveliness, excellent control over the laya (speed) and impressive dexterity. He brings the touch of sweetness to his performance whether in solo concerts or in accompaniment. He is "A" grade artiste of the All India Radio and Television since 1984. He has accompanied a galaxy of top-notch Artiste in public performances notably Prof. V.G. Jog, Girija Deva, Dr. N. Rajam. Pt. Rajan Sajan Mishra, Pt. Buddhaditya Mukherjee, Pt. Bhajan Sopori, Pt. Vishwa Mohan Bhatt, Pt. Jasraj, Pt Ulhas Kashalkar, Smt Aswini Bhide, Smt. Shubha Mudgal, Smt Shruti Sadolikar, Pt. Ajay Pohankar, Pt. Debu Chaudhary and Pt. Ram Narayan etc.
He has toured New Zealand, Australia, Holland, Switzerland, Belgium, Austria, Germany and Japan several times for performance and lecture demonstration on Indian Classical Music