7th of November, 2009.
Trafó, Budapest
Pandit Dhruba Ghosh – Sarangi
Vinod Lele – Tabla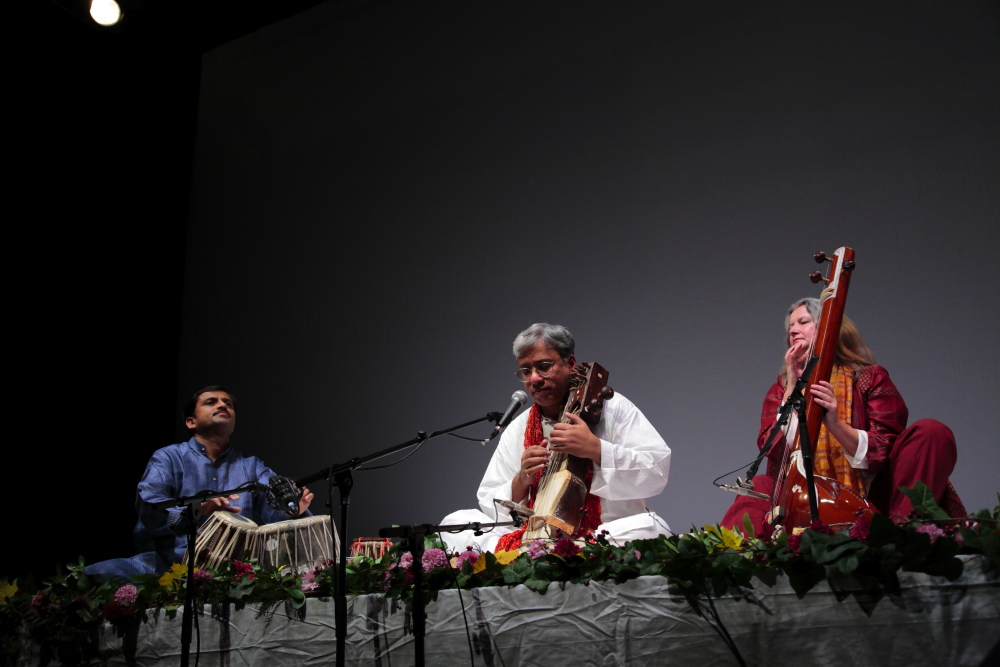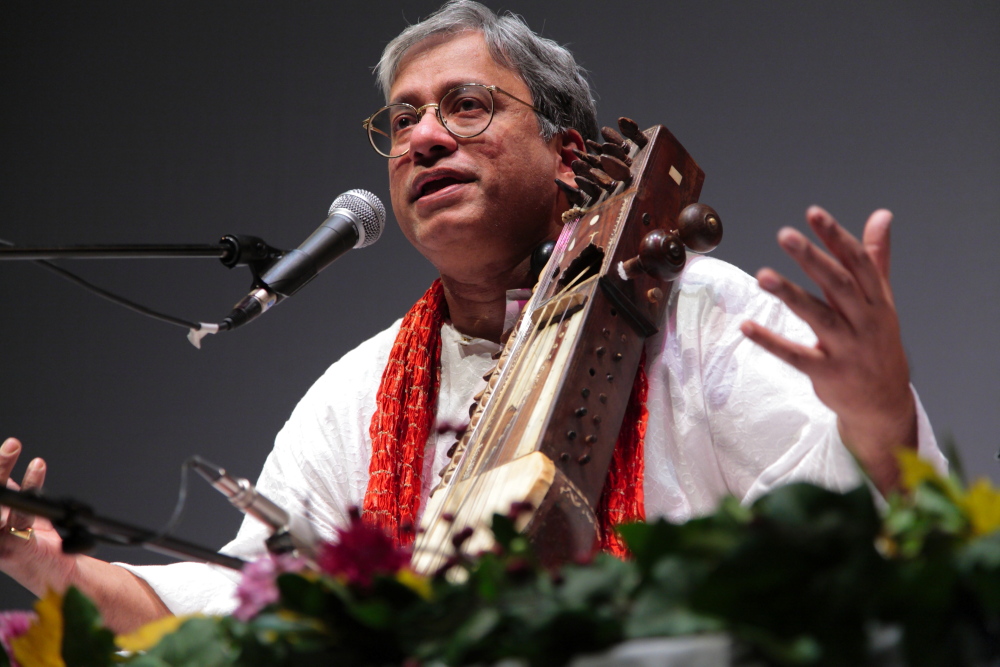 photo by Daniel Zafir ©
---
Pandit Dhruba Ghosh
Sarangi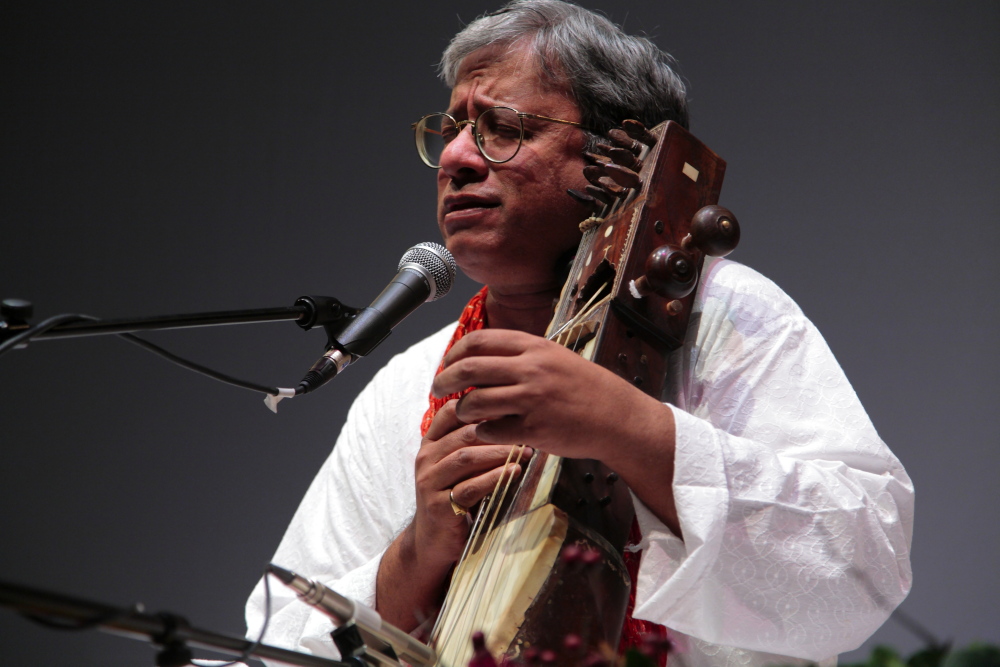 photo by Daniel Zafir ©
The sarangi is popularly known as " the instrument of a hundred colours" from north India. Dhruba Ghosh has transformed the traditional classical Sarangi of North India into a multi-dimensional expression. His brilliance of technique, composition of performance and mastery of Ragas on Sarangi has labelled him as one of the living masters of this complicated instrument. He has greatly furthered the idea of bringing the Sarangi to the fully instrumental solo status.
Dhruba is the inheritor of the tradition of his masters, his father Pandit Nikhil Ghosh, the famed percussionist and pedagogue, the veteran vocalist-composer Pandit Dinkar Kaikini, and the renowned sarangi maestro Ustad Sagiruddin Khan of the legendary Bundu Khan style of Delhi. He has also been receiving core gharana material from Ustad Ali Akbar Khan (sarode master of the Maihar Gharana) and the great Bansuri player Pannalal Ghosh, who was known as the father of classical Hindustani flute, and elder brother of Nikhil Ghosh.
Dhruba Ghosh has performed at various music venues and respected Festivals in all over the world. Since 1991 he has been touring exclusively as a soloist and also colloboration concerts.
---
Vinod Lele
Tabla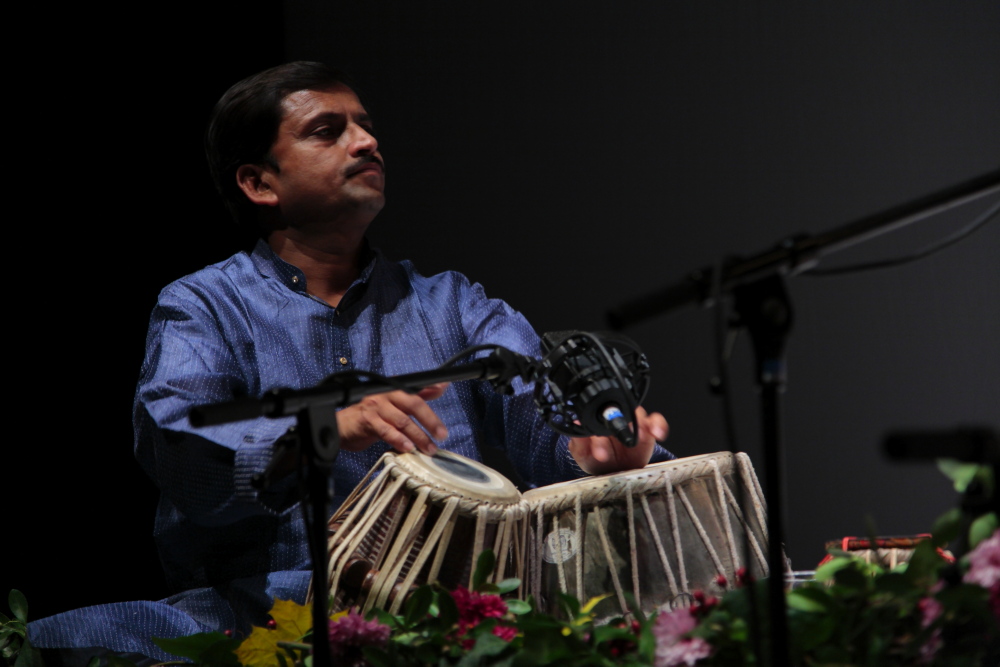 photo by Daniel Zafir ©
Born in 1965 Vinod Lele learnt the art of Tabla Playing from his guru Pandit Kashinath Khandekar of Banaras Gharana (Tradition of Banaras School) epitomized by the style of playing the celebrated Pandit Anoke Lal Ji. Vinod obtained the degree of Sangeet Praveen (Master in Tabla) from Prayag Sangeet Samiti, Allahabad, securing a Gold Medal. He has won first prize for the Tabla in U.P. Satet Sangeet Nathak Akademy, Music competition in 1982. He has also won first prize in the All India Radio Music Competition in 1983.
Vinod Lele's Style of Tabla playing is characterized by liveliness, excellent control over the laya (speed) and impressive dexterity. He brings the touch of sweetness to his performance whether in solo concerts or in accompaniment. He is "A" grade artiste of the All India Radio and Television since 1984. He has accompanied a galaxy of top-notch Artiste in public performances notably Prof. V.G. Jog, Girija Deva, Dr. N. Rajam. Pt. Rajan Sajan Mishra, Pt. Buddhaditya Mukherjee, Pt. Bhajan Sopori, Pt. Vishwa Mohan Bhatt, Pt. Jasraj, Pt Ulhas Kashalkar, Smt Aswini Bhide, Smt. Shubha Mudgal, Smt Shruti Sadolikar, Pt. Ajay Pohankar, Pt. Debu Chaudhary and Pt. Ram Narayan etc.
He has toured New Zealand, Australia, Holland, Switzerland, Belgium, Austria, Germany and Japan several times for performance and lecture demonstration on Indian Classical Music