17th of September, 2016
Trafó, Budapest 20.00
Partho Sarothy – Sarod
Pandit Abhijit Banerjee – Tabla, Pakhawaj
Somnath Roy – Ghatam
from 19.30 showing a Baba Allauddin Khan – a documentary in English
"Partho is one of my foremost disciples. I am happy to see how he has blossomed into one of the top Sarod players of today. My blessings and good wishes are with him to achieve greater heights."
– Pt. Ravi Shankar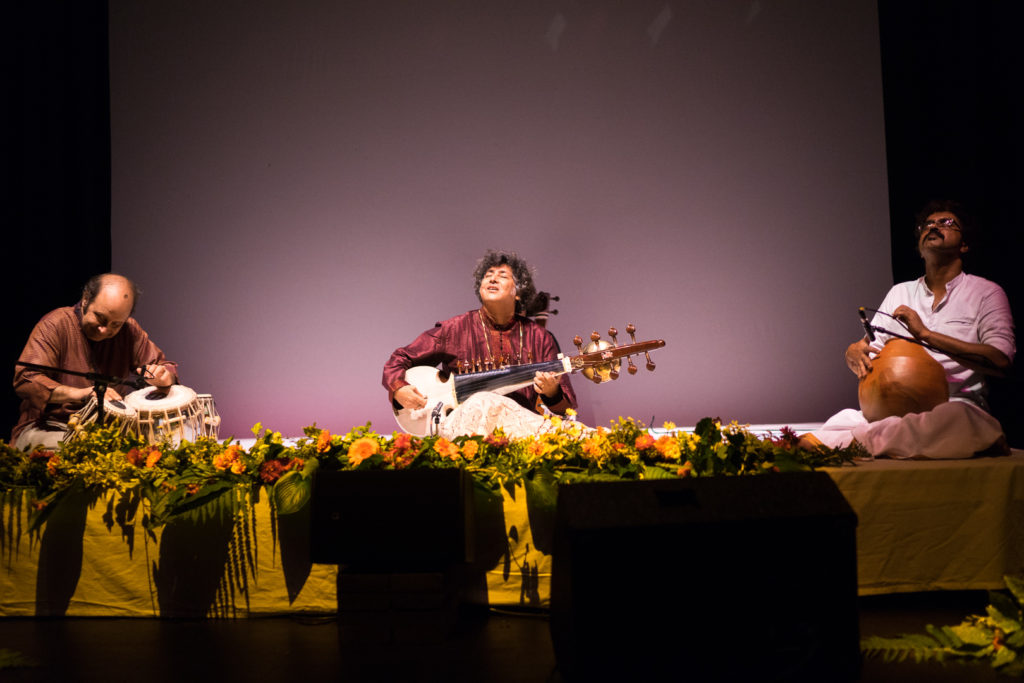 photo by Daniel Zafir ©
---
Partho Sarothy
Sarod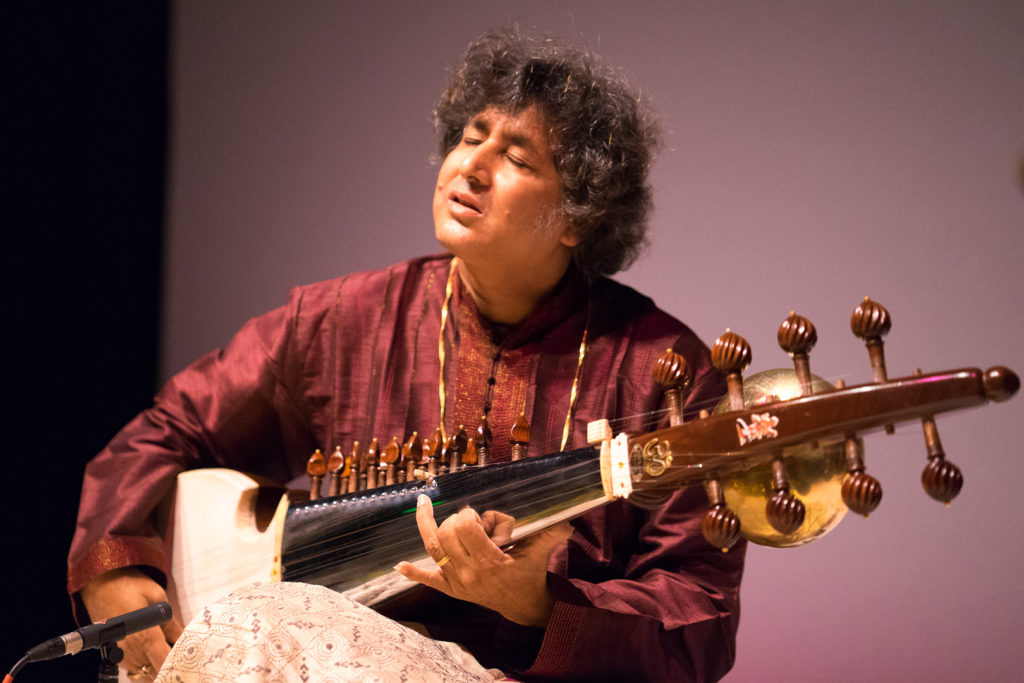 photo by Daniel Zafir ©
Partho Sarothy is one of the finest musicians of India. His music embodies the true heritage of Hindustani classical music. His virtuosity on the sarod makes his exploration of the raagas an exercise in harmony and tranquility, and his serious meditative approach makes his music literally soar to unscaled heights of fulfillment.
He has been performing for the last 40 years in India and all over the World as a soloist and also with his great guru Pt. Ravi Shankar as an accompanist in the Kremlin Hall in USSR, The Carnegie Hall in USA, The Royal Albert Hall & Queen Elizabeth Hall in London, and other numerous places around theWorld.
In India he has performed in all the major music festivals like The Dover Lane & SRA Music Festival in Kolkata, The Savai Gandharva Festival in Pune, IMG Fest in Mumbai, The Shankar Lal Festival & Vishnu Digambar Jayanti in Delhi, Tansen Sangeet Samaroho in Gwalior and numerous other places in India.
---
Pandit Abhijit Banerjee
Tabla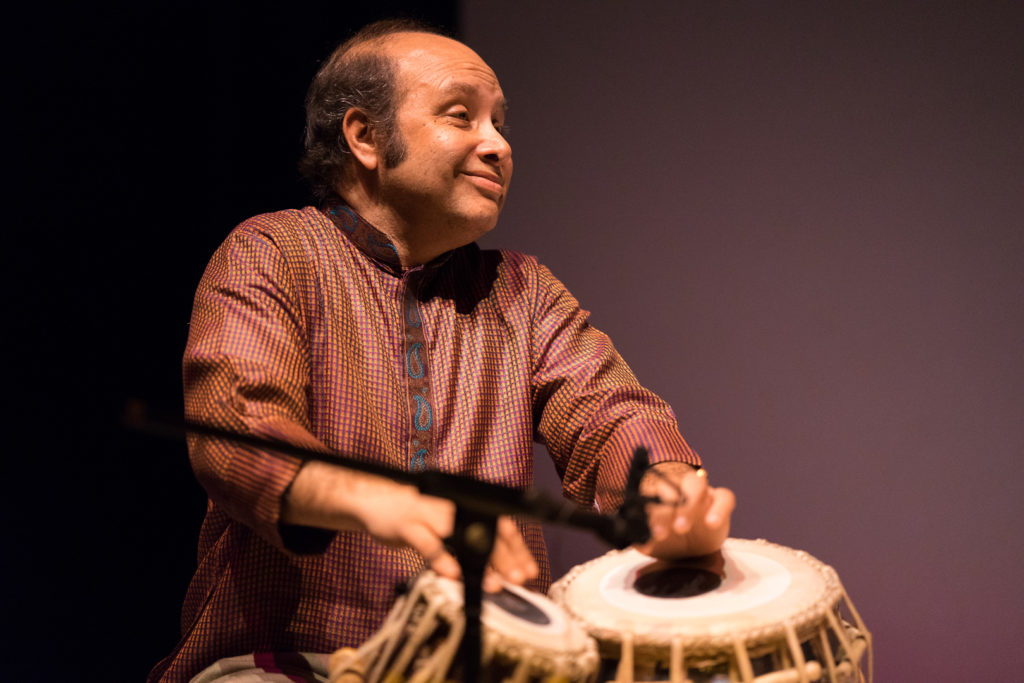 photo by Daniel Zafir ©
Considered among the front ranking tabla players from India, Abhijit Banerjee is one of the most sought after creative artists in the realm of Indian classical music. Recognizing his talent and natural inclination towards music his father steered him to tabla at the age of four. Abhijit also studied vocal music and violin making a complete musician out of him. Now he is accepted as one of pioneering disciples of the illustrious guru, the late Pandit Jnan Prakash Ghosh.
Abhijit has accompanied nearly all the top ranking luminaries of Indian classical music including Pt.Ravi Shankar, late Pt.Nikhil Banerjee, Begum Parweena Sultana, Pt.Jasraj, Pt Shiv Kumar Sharma, Dr. Balamurali Krishnan to name a few. As a tabla soloist he has also made his mark in numerous performances and recordings in India & abroad.
Abhijit has been holding center stage in all of the major classical music festivals in India . and touring extensively in USA, Canada, U.K., Europe, Japan, Australia, South Africa, South East Asia and Mexico giving concerts, conducting workshops and attending seminars in the Universities and music schools. His International performances of note include Lincoln Center, Carnegie Hall, Gevant Haus in Germany , Paleis in Brussels , Theatre de la Ville & Radio France in Paris , South Bank, U.K. Abhijit also has had the honor of representing India in the Granada Festival of Music in Spain.
In addition to a highly successful career in Indian Classical music his crossover work includes collaborations with musicians such as Ry Cooder, Larry Corryell and Trilok Gurtu. Abhijit founded his own touring ensemble TARANG performing his original compositions, and released a CDs of the same title. He is also member of the Raga Jazz group, Arohi Ensemble.
Abhijit has scored music for Indian television & won the National Award for Documentary Music for the film about Calcutta 'The Trail', which was screened in the Munich and Amsterdam film festivals. Abhijit has founded & established Dhwani Academy of Percussion in Los Angeles, New York, Singapore and Calcutta attracting talented students from around the world. The Academy also works towards the promotion of Indian music and has initiated needy blind children in the art of music.
In his academic life he is a graduate in English literature and post graduate in Journalism.
http://www.abhijitbanerjee.com
---
Somnath Roy
Ghatam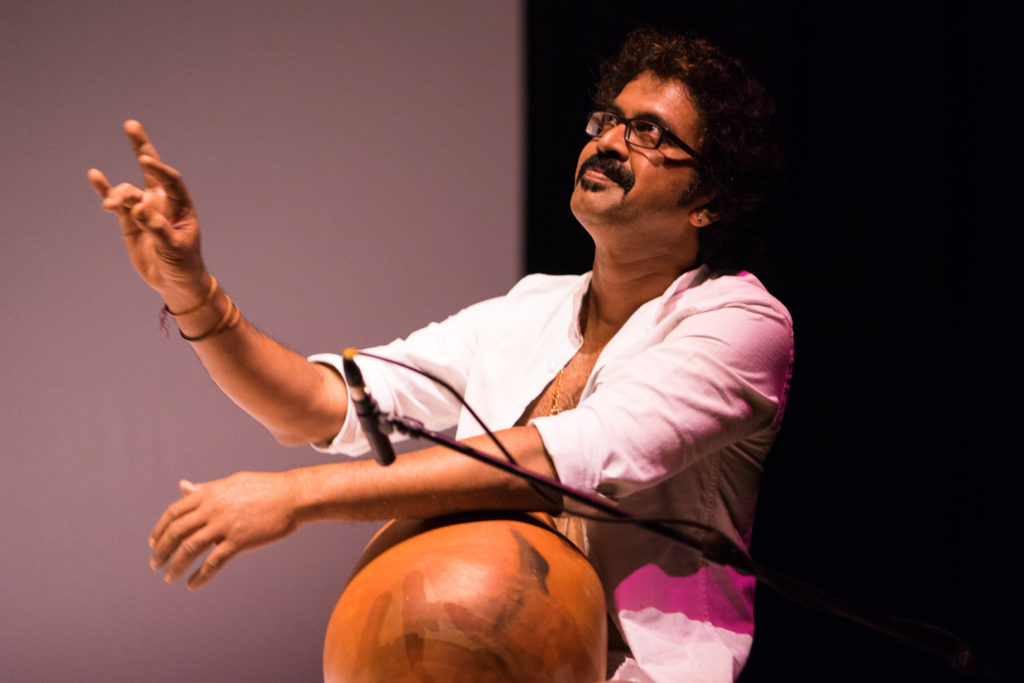 photo by Daniel Zafir ©
Somnath Roy is truly a name to reckon with in the select band of versatile percussionists. Born in a pious music loving family in 1971 at Howrah, West Bengal, Somnath has shown remarkable inclination towards various musical instruments even from his very childhood. Keenly observing classical and neo classical music and trying a variety of instruments whenever an opportunity strikes. Somnath kept his passion intact for many years. He started learning the Hindustani Flute from Sri Nepal Sarkar and went on to learn dholak from Sri Bablu Biswas respectively.
His unbridled urge to explore beyond frontier of Hindustani laya system took him to Pandit S. Shekar, the legendary Mridangam maestro of Kolkata who comes from the acclaimed Palghat Mani Iyer School of Mridangam playing. Shri Shekar advised Somnath to learn unique art of Ghatam playing from the 'numero uno' in Ghatam today, Shri V. Suresh who lives in Chennai. Shri Suresh trained Somnath under Gurukula system (where the student lives with the guru's family and learns the art for some years) for more than two years, guiding him in the authentic, fingering techniques of Ghatam. Somnath had his maiden performance as a Ghatam player in a Carnatic classical concert in 1999. He also accompanied legend classical Artists like Sangeeta Kalanidhi Dr. T.K.Moorthy, Dr. N. Vijay Shiva, Ustad Amjad Ali Khan, Ustad Shujaat Khan, Pt. Anindo Chatterjee, Pt. Abhijit Banerjee, Grammy award winner Pt. Viswa Mohan Bhatt. Etc.
Somnath has been working as a composer for film music for 22 years. He worked with legend film director like Sandip Roy, Goutam Ghosh, Budhadev Dasgupta etc.
He has many CDs published internationally as a solo artist as well as accompanist. He played prestigious festivals in India and abroad like Dover Lane Music Conference, International society for Laya Awareness, Etni Malaga Festival, World sacred music festival and many more. Somnath got Best percussionist award from ATN at 2003.