All credit for information on Jaipur Senia Gharana goes to Steven Landsberg.
For further details please visit his website.
also known as:
Jaipur Gharana
Jaipur Sitar Gharana
Senia Gharana

The city of Jaipur was founded by Jai Singh in the second half of the 17th century. In 1739, when the Mohammed Shah darbar ended, many Senia musicians left Delhi. Most of the musicians were the descendants of the Senia beenkar Masid Khan, the inventor of the first sitar baj. That is the reason why the name "Senia Gharana" frequently appears. But actually it is hard to find any instrumental gharana today which has no direct descendents from the Senia that is Miyan Tansen's line.
It is believed that the Jaipur Gharana was founded in the middle of the 18th century. Rohim Sen, who was probably the great-grandson of Masid Khan, lived in Jaipur in the 19th century. His son, Amrit Sen (1813-1893), who was patroned by Ram Singh Maharaja, had many disciples, like his son-in-law Nihal Sen, his nephew, Amir Khan, Sudarshan Acharya Shastri, and even Ustad Imdad Khan (the founder of the Imdad Khani Gharana). Amir Khan had also spent years in this darbar, and later he moved to Gwalior where he became the teacher of the Maharaja, Jayajidav's own son, Madhavarajji. Amir Khan's most famous disciple was Barkatulla Khan, who also learned from Alladiya Khan (Atrauli Gharana).
---
Barkatullah Khan
(d. 1930)
Barkatullah Khan had received his training from Amrit Sen, the famous Jaipur Senia sitar player and grandson of Maseet Sen.

When Barkatullah Khan arrived in Varanasi and met Ashiq Ali, he was eager to hear his surbahar playing. Undoubtedly impressed by his demonstration and sincerity as a great musician, he invited Ashiq Ali to accompany him to Kathmandu where Barkatullah Khan was a favorite of the King. Ashiq Ali agreed and so it was that his sitar instruction began and the great legacy of Maseet Sen fell into the ears of Ashiq Ali Khan.

Ustad Barkatullah Khan did make one recording in l904 only.
| | |
| --- | --- |
| Barkatullah Khan: Raga Bhupalii (1904) | |
Ashiq Ali Khan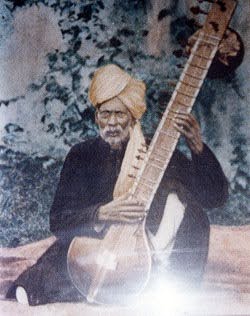 Juggu Khan's descendants all became musicians by birth. His great grandson Sadiq Ali Khan continued the tradition but died prematurely when his own son Ashiq Ali Khan was still a child. Sadiq Ali Khan's cousin brother Waras Ali filled the void to facilitate Ashiq Ali's training. Waras Ali Khan was a third generation descendant of Makku Khan. He learned dhrupad singing through his family lineage. He also learned veena from one of the great players of the nineteenth century, Bade Mohammed Khan. Although Waras Ali was not his proper son, Bade Mohammed adopted him as a son so that he could teach him the veena. It was a widely held belief at the time that to teach anyone the veena but one's own son could lead to misfortune and disease. In order to avoid this curse, the great ustads would adopt those male children with fortunate capacity and talent and give them the necessary instruction. Waras Ali Khan taught the veena to his own adopted son but not to his nephew Ashiq Ali Khan. Instead of the veena, Waras Ali decided to teach Ashiq Ali Khan the surbahar, using the special right hand technique of the veena. This technique requires the use of two plectrums. Due to the way one sits with the surbahar and the angle at which the right hand rests upon the instrument, it is necessary to use three plectrums in order to play the veena stroking patterns on the surbahar.
Ashiq Ali Khan became an extraordinary surbahar player and was invited to play at the courts and homes of numerous patrons. He would have only played surbahar had it not been for the timely arrival in Varanasi of the renowned sitar player from Mysore Ustad Barkatullah Khan.
One story goes that it was impossible for a listener to hold back tears when Ustad Ashiq Ali played raga Bihag (a sweet evening melody characterized by profound warmth and tenderness). Such a legend could only grow around a musician who had attained a deep realization of inner tonality and feeling.
One of the leading disciple of Ashiq Ali Khan was his own son, Mustaq Ali Khan.
---
Mustaq Ali Khan
(1911-1989)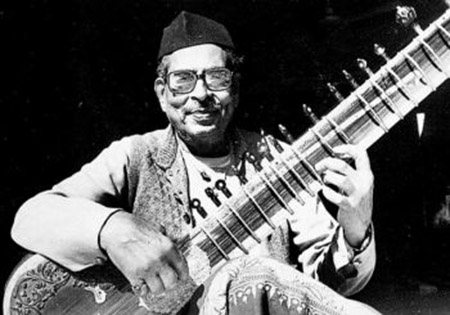 | | |
| --- | --- |
| Mustaq Ali Khan: Raga Deshkar, Raga Adana | |
On June 20, 1911 Ashiq Ali Khan's wife gave birth to a son at the very same home in Varanasi that Jahandar Shah had given to Makku and Juggu Khan a hundred years earlier. At the age of six his lessons began and within a short time he adapted the technique of sitar. Over a period of several years, his training evolved into a 14 hour-a-day practice routine. Beginning at 4 a.m, Ashiq Ali would wake his son, put his hands in cold water and strap one kilo of lead around each wrist. Mushtaq Ali Khan would then have to perform one thousand scales repeatedly while his father counted. If there were even the smallest mistake, the count would begin again.
Ashiq Ali Khan was around fifty-five years old when his son was born. Undoubtedly, he was eager to teach him and pass on his knowledge quickly. At the age of twelve, Mushtaq Ali began his study of the surbahar. Although Mushtaq Ali Khan was destined to be a sitar and surbahar player, his father insisted that he study all aspects of traditional Indian music. He learned the dhrupad compositions of his own family lineage that originated with Nayak Dhondu as well as many khyals, tappas, and thumris. He took an extensive training in pakhawaj, used to accompany dhrupad, veena, and surbahar. He also became a skilled tabla player.
Mushtaq Ali Khan entered the court of Jaunpur in Uttar Pradesh for a short period, but he found court life restrictive and realized that his musical goals could not be accomplished in such an environment. In l929 Mushtaq Ali Khan moved to Calcutta. He became an instant success. Highly acclaimed at the Allahabad Music Conference in l931, he began to receive invitations to play throughout India. He was one of the first artists to play on All India Radio and continued to record for them until the very end of his life.
He helped poor and disabled artists and started a hospital fund for artists who could not afford inpatient care.
Debu Chaudhuri is one of the disciples of Mustaq Ali Khan. He was the senior Sitar teacher of Delhi University until 2004, the year of his retirement. Nowadays his son, Prateek Chaudhuri appears on stage frequently.
---
related links : Prateek Chaudhuri